Amsterdam RSO 10ml Vape e-liquid 300mg
€87,80
Description
Cannabis Vape Juice
Introducing our Amsterdam 300mg RSO Vape E-Liquid for the advanced users.
Choose from 17 different flavours! It can be used in vape devices, or dropped under the tongue sublingually.
Containing 300 mg RSO ???
Please be advised that RSO unfortunately does not taste so good.
10ml bottle
17 different flavours
PG/VG ratio is 80/20
Full spectrum cannabinoids
Nicotine and Diacetyl free
Flavours based on terpenes
No alcohol, no animal extracts
Works in all electronic cigarettes and vaping devices
This product is 100% organic
What are Terpenes
Terpenes are organic compounds found in a variety of plants, and contribute to their flavour, scent and color. They interact synergistically with cannabinoids to create what scientists refer to as an entourage effect that magnifies the effects of the plant's individual components. Imagine it like THC/CBD being a car, while Terpenes are the driver of that car.
Most common Cannabis Terpenes
Pinene: 
Effects: Alertness, memory retention, counteracts psychedelic side-effects
Medical Value: Asthma, antiseptic
Flavours to choose from: Jack Herer, Blue Dream, OG Kush
Myrcene
Effects: Sedating "couchlock" effect, relaxing
Medical Value: Antioxidant, anti-carcinogenic; good for muscle tension, sleeplessness, pain, inflammation, depression
Flavours to choose from: OG Kush, Green Crack, Granddaddy Purple
Limonene
Effects: Elevated mood, stress relief
Medical Value: Antifungal, anti-bacterial, anti-carcinogenic, dissolves gallstones, mood-enhancer; may treat gastrointestinal complications, heartburn, depression
Flavours to choose from: Trainwreck, OG Kush, Sour Diesel, Super Lemon Haze
Caryophyllene
Effects: No detectable physical effects
Medical Value: Gastroprotective, anti-inflammatory; good for arthritis, ulcers, autoimmune disorders, and other gastrointestinal complications
Flavours to choose from: Girl Scout Cookies, OG Kush
Linalool
Effects: Anxiety relief and sedation
Medical Value: Anti-anxiety, anti-convulsant, anti-depressant, anti-acne
Flavours to choose from: Skywalker OG
Humulene
Effects: Suppresses Appetite
Medical Value: Anti-bacterial anti-inflammatory, pain
Flavours to choose from: Girl Scout Cookies, OG Kush, Sour Diesel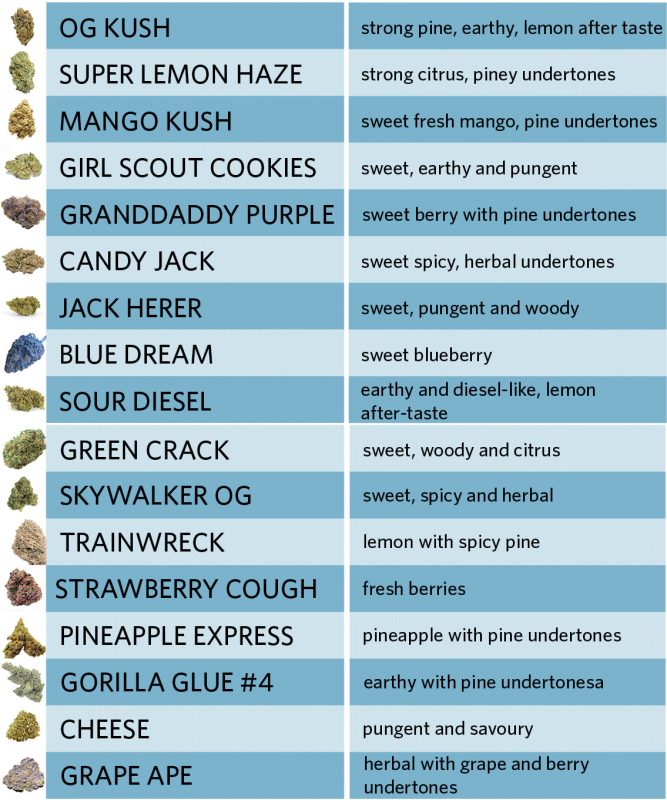 * More information about terpenes and aromatherapy can be found here.
Ingredients
PG/VG, Terpenes (Pinene, Myrcene, Limonene, Caryophyllene and Linalool)
300mg RSO per 10ml bottle, 30mg/mL
How to use:
Insert the e-liquid into a cartridge or atomizer, Keep your vaporizer clean.
Shake before each use for best results and keep refrigerated if possible.
Precautions of use
You must be of legal smoking age to use this product. Do not drive or operate machinery while using it. Not for use by women who are nursing or pregnant. Keep out of reach of children and pets. Keep tightly sealed and away from direct sunlight. May induce drowsiness.
More information
How Much CBD Oil Should I Vape?
Guide To CBD & Vaping – Is it For You?
Have a question? Read more in our Ultimate Cannabis guide, Find answers at our FAQ page or contact us!
Product is certified!
This statement has not been evaluated by the Dutch Food and Consumer Product Safety Authority.
This product is not intended to diagnose, treat, cure or prevent any disease.
Additional information
| | |
| --- | --- |
| Weight | 0.2 kg |
| Dimensions | 3 × 3 × 9 cm |
| choose-your-flavour | BLUE DREAM, CANDY JACK, CHEESE, GIRL SCOUT COOKIES, GORILLA GLUE #4, GRANDDADDY PURPLE, GRAPE APE, GREEN CRACK, JACK HERER, MANGO KUSH, OG KUSH, PINEAPPLE EXPRESS, SKYWALKER OG, SOUR DIESEL, STRAWBERRY COUGH, SUPER LEMON HAZE, TRAINWRECK |
| brand | RSO-Amsterdam |
| concentration | 300mg |
| potency | 3% |