CBD Oil 2.5% CIBDOL 10-50ml
€15,95 – €88,00
At Cibdol we produce of one of the purest and finest quality CBD oils available in Europe. Cibdol CBD oil 2.5% is clean and pure and made from 100% naturally grown fiber hemp. Cibdol CBD oil is the perfect CBD product for health-conscious users who don't want the psychedelic effect of cannabis.
Description
Experience all the benefits of hemp, pure and simple
As one of the leading European manufacturers of natural CBD products, Cibdol CBD oil is as pure as it gets. We use only organically grown hemp in our production process, without any synthetic chemicals, hormones, or GMO products. This CBD oil contains 2.5% cannabidiol and is held to the same strict standards as our other CBD oils. Utilising supercritical CO₂ extraction and a proprietary filtration process, our 2.5% CBD oil retains only the most beneficial cannabinoids and terpenes. Packed with significant potential, our oil allows health-conscious consumers more freedom to personalise their dose depending on individual needs.
The purity of Cibdol CBD oil ensures that consumers receive an unadulterated dose of CBD (suspended in a nutritious olive oil carrier) without any of the psychotropic effects of cannabis.
How to use Cibdol natural CBD oil 2.5%
Cibdol CBD oil is very easy to use. It comes in a convenient dropper bottle, which makes it easy to dose down to the last drop. The recommended dosage for Cibdol CBD oil 2.5% is 3–4 drops, three times per day.
We have further improved our formula and filtration method. The CBD oil is now lighter and easy-flowing, so it won't ever clog the dropper. Not a single drop of Cibdol CBD oil will ever go to waste.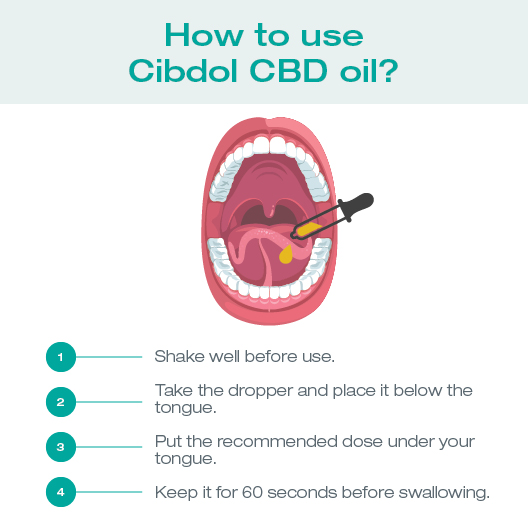 Ingredients: Olive Oil or Hemp Seed Oil, hemp extract, terpenes
*Not detectable by HPLC-UV analytical method (detection limit 10 ppm) on semi-finished product. In Cibdol CBD oils <0.05%.
Additional information
| | |
| --- | --- |
| Weight | 0.2 kg |
| Dimensions | 3 × 3 × 9 cm |
| brand | |
| choose-size | |
| potency | |
| concentration | |
| choose-mixture | |
| price_per_mg | |
| mg_per_ml | |