RAW ORGANIC HEMP SEED OIL ENDOCA 250ml
€9,00
Endoca Raw Organic Hemp Seed Oil is made from the finest non-GMO hemp seeds. Cold-pressed and carefully crafted in our GMP certified labs to ensure you receive the highest quality. Enhance your salads and cold dishes with this mild and nutty oil packed with healthy omegas 3,6 & 9. Ideal for vegans and vegetarians to give your meals a nutritional boost.
Description
PRODUCT BENEFITS
Rich in natural proteins and minerals
High in healthy fats Omega 3, 6 and 9
9 Essential Amino Acids
Low in salt, saturated fat, and sugar
Suitable for everyday use
Ingredients
100% Raw organic extra virgin hemp seed oil.
Suggested Use
Serving size 2 tsp (10 g)
Servings per bottle: 25
How and when to use
Use in salads and vegetable dishes
Use it raw of slightly heated
Not suitable for frying
Add to dressings
Storage
Store in a cool dry place. Avoid exposure to heat or sunlight.
Unlocking the Secrets of Nature
Extra virgin hemp seed oil rich in omega 3, 6 & 9. Hemp is a nutritious superfood that helps support a healthy balanced diet.
Made from 100% raw organic hemp seeds. A highly nutritious vegan source of complete protein. Rich in essential fatty acids, such as Omega-3, Omega-6, and Omega-9 (including GLA). With the perfect ratio of 3:1 omega 3 and 6 ratio.
Contains omega 3 ALA that contributes to the maintenance of normal blood and cholesterol levels and daily intake of 2g of ALA.
Proteins and amino acids are the body's essential building blocks, and can be a healthy addition to a vegan plant-based diet. Hemp proteins are highly digestible and have a mild earthy nutty taste.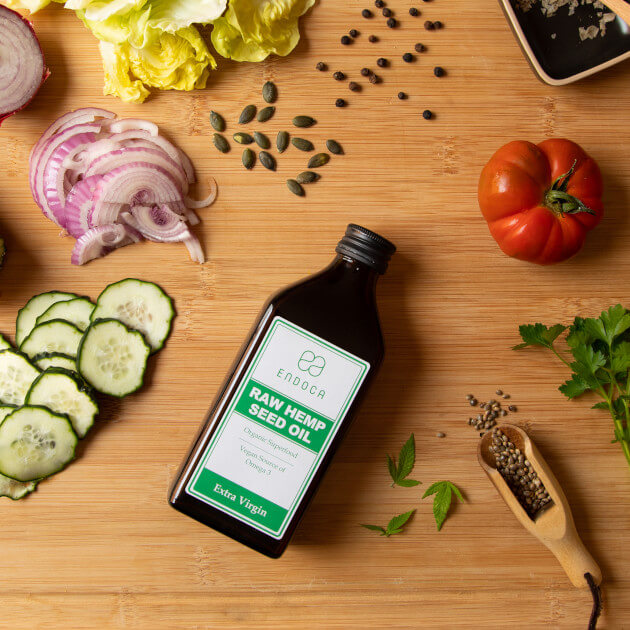 Endoca Raw Supplement Benefits
Our high-quality hemp seed oil is sourced from the finest organic hemp seeds. We only use the highest quality unprocessed ingredients to ensure you receive the natural benefits directly from the plant.
Endoca Raw Hemp seed oil is 100% organic and is produced under strict quality control. GMO-Free and pesticide Free.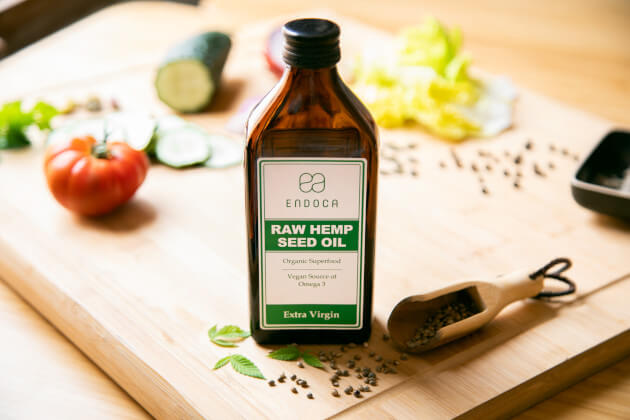 Additional information
| | |
| --- | --- |
| Weight | 1 kg |
| Dimensions | 10 × 10 × 9 cm |
| brand | |
| choose-mixture | |